Central Heating Sludge
Problems & Cures
If you found that the radiators in your home were not as warm as they used to be, but are still warm around the top and sides but cold in the middle and bottom then you probably have radiator sludge, something which will happen to most central heating systems sooner or later.
This will mean a colder home, higher energy bills, and the possibility of causing further damage to your central heating system.
It's best to get your heating checking during the summer months as you'll find that heating engineers and plumbers are in very high demand during winter so get it sorted now and save on time and money.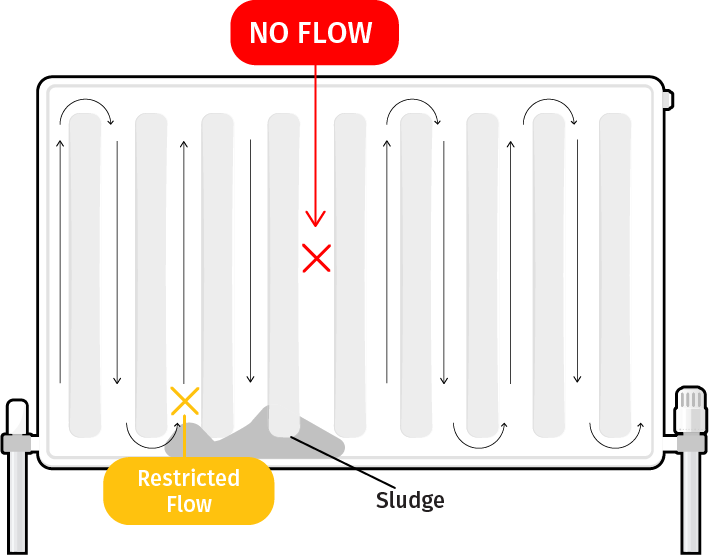 How do I know if I have central heating sludge?
There are a few tell-tale signs of sludge in your heating system, but the main one being the colour. When bleeding the radiator you might notice that the water that comes out from it is dirty then this is one of the signs that you have sludge in your central heating. The darker the sludge, the more sludge you have in your central heating.
What is radiator sludge?
Radiator sludge is a mix of dirt from water and iron oxide (rust) that results from the inside of your radiator corroding over time which settles at the bottom of the radiator and interferes with the correct flow of the hot water. You can see in the diagram to the right how the sludge restricts the flow and leaves some areas of the radiator cold.
Not only does this sludge create an inefficient heating system meaning you are spending more to keep your house warm but it can also damage the boiler, heat pump and valves which can prove very costly indeed. If your system is more than 10 years old then it's highly likely you will have a build-up of corrosion.
At O'Byrne Services we use MagnaClean to not only clean out your heating system but install a solution which will fix the problem once and for all. 
MagnaClean provide guaranteed central heating system protection which improves system performance and ensures a longer working life.

How Magnaclean Professional works in seconds

Black iron sludge is deposited in a container

The Magnaclean Professional Filter is placed into the container

Within seconds the water starts to clear as Magnaclean Professional sets to work...

After just 10 seconds virtually all sludge has been trapped and the water is clear.

The Magnaclean Professional Filter is removed for easy cleaning.
*Magnaclean works on both Oil and Gas systems.
service@obyrneservices.com
056 772 3580
053 937 6360
086 072 6541
086 028 1908
Unit 16 Hebron Business Park
Hebron Rd
Kilkenny